Case Study: Using Facebook Advertising to Acquire Qualified Leads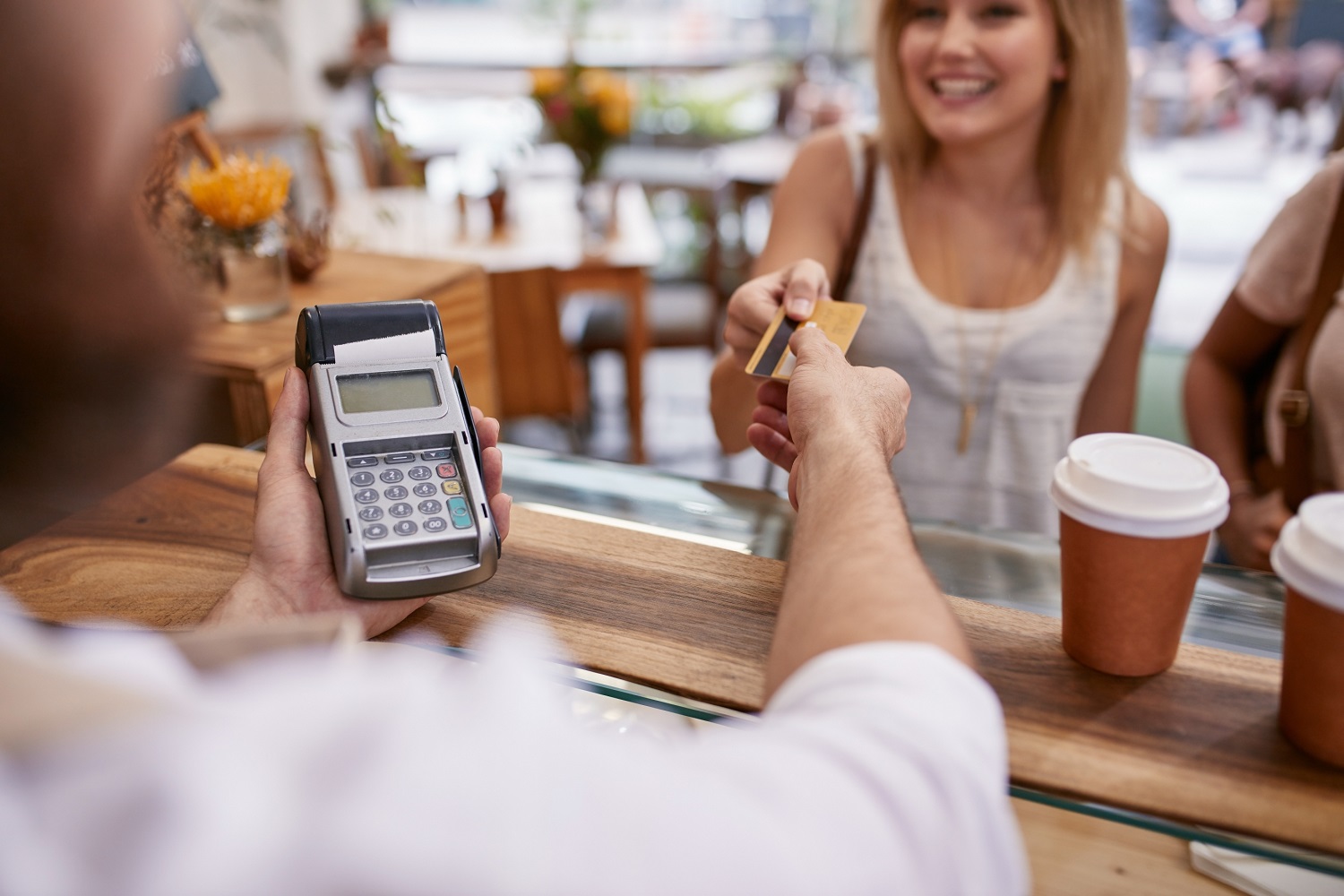 Bright Age worked with Elite Merchant Solutions, a rapidly growing merchant service provider, to acquire new leads that had a need for a credit card terminal at their place of business. A highly-targeted and strategic Facebook campaign gained qualified leads at a rapid and cost-effective rate.
Over the course of the first few months of the campaign, Bright Age tested and optimized multiple ad format options as well as varying target audiences. Through analysis of the cost per result and quality of each lead, the campaigns were adjusted and improved to receive the most eligible leads at the lowest cost.
Elite Merchant Solutions is an established nationwide merchant service provider, but they were searching for a new method of acquiring leads of people that they had been unable to reach through previous sales and marketing tactics. While they had built a strong brand presence through phone and in-person sales, they recognized that they were missing a huge market that could be targeted through digital advertising. Elite Merchant Solutions approached Bright Age to develop a social media strategy that would gain them qualified leads.
While many business owners rely on credit card processors for their sales transactions, the challenge is that nearly all of them already have a credit card terminal. Since these potential customers already have a solution to this need, many of them are not interested in learning about alternatives and are reluctant to change. On top of this, it can be very challenging to identify the people who actually have a need for a credit card processor, versus the people who own a business but are not taking daily credit card transactions.
Although the campaign presented challenges, a powerful solution was developed through detailed Facebook targeting and with incentivizing offers. Since most of the ideal customers already have a solution to their need, Bright Age encouraged Elite Merchant Solutions to provide customers with an offer that would make them reconsider. A $100 Amazon gift card was given to anyone who signed up for a processor, and Elite Merchant Solutions guaranteed that they could provide lower transaction rates than their previous terminal provider. Now that there was an incentive, the offer had to be shown to the right people. To do this, Bright Age created multiple ad sets based on interests, demographics, job titles, education, and more. Some audiences were focused on those interested in top competitors such as Square, and other audiences were focused on people whose job title was Owner or Founder and had a college education. Facebook also allowed Bright Age to target people who have purchasing behaviors similar to that of a business owner. These targeting options and combinations of them allowed for a highly successful campaign. The people in these targeted audiences were ideal customers for Elite Merchant Solutions, and after seeing the implemented incentive and guaranteed improved transaction rates, they were very interested.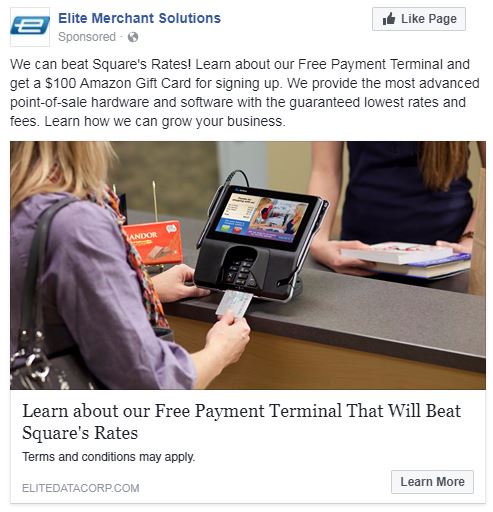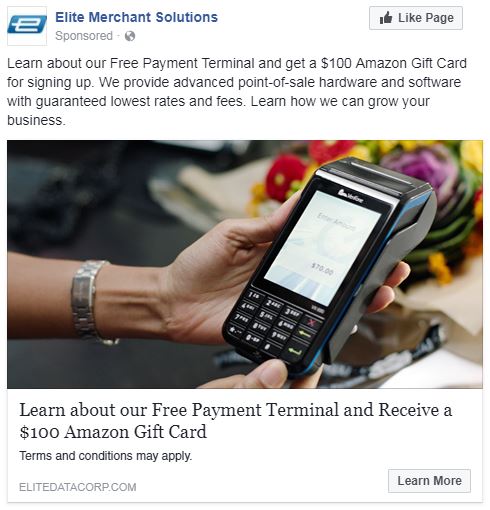 Initial results of the campaign varied based on ad format and audience, but by identifying the most successful group and corresponding ad, Bright Age acquired new leads for Elite Merchant Solutions at an average cost of only $8.42 per lead. As a company that relies on initial customer acquisition, this presented Elite Merchant Solutions with an enormous opportunity for growth. As leads continued to come in from the Facebook ad campaign, the budget was increased and the geographic region of the campaign was expanded to help them keep growing on a national scale.
View Some of Our Other Social Media Marketing Case Studies
We specialize in developing innovative social media and online marketing campaigns to build brand awareness and drive targeted website traffic. To accomplish that we develop quality post text, provide graphic design, and increase page engagement through hyper-targeted social media campaigns.