It's estimated that there are about 4,000 homeless young men at any given time in the streets of Los Angeles. Most of these male youth come from poverty stricken families struggling to make ends meet. They are too old to qualify for social services aimed at children, and too young to have adequate means to support themselves. These factors can cause a lack of a sense of direction which can lead to hopelessness, drug use, crime and homelessness.
The Good Seed Shelter is a non-profit organization that provides social services and transitional housing to the underprivileged youth of northern and southern California. It's centermost in a program that was started by the Good Seed Church. The shelter provides a host of services to Transition Age Youth (TAY) from the ages of 18 to 25. These young men are provided with basic human needs like food, clothing and a warm bed in a secure, homelike environment.
The shelter is committed to alleviating the painful issues associated with poverty and homelessness by providing counseling aimed at addressing substance abuse, learning life management skills, job training and independent living. Many of these young men are in need of mental health and medical services, and The Good Seed assists them in obtaining these. The Good Seed has partnered with the Los Angeles County Department of Mental Health in order to conduct intensive case management assessments to determine the individual needs of these underprivileged young men. This helps secure permanent housing, ongoing counseling and social services to further their stability and success after leaving the shelter. They are also given referrals to additional programs and resources they might need in the future.
Bright Age Digital Creative Agency is a well-established company that specializes in web design, graphic design and internet marketing techniques which include Search Engine Optimization (SEO), Facebook advertising and social media management. The Good Seed asked them to design and produce ads aimed at grabbing the attention of homeless youth to lead them to the shelter. They were kind and caring enough to offer their services for free. The result of this partnership is a creative, well-designed ad that will be posted in 1,200 buses across Los Angeles. Homeless young men will often ride the bus continually through the late night hours in desperate attempts to find warmth and shelter, so these ads couldn't be placed in a better location.
The professionals at Bright Age Digital Creative Agency are excited about this opportunity to help their community. These ads will help The Good Seed and Bright Age reach a large number of desperate young males and make a huge impact on the Los Angeles community. Bright Age has produced multiple versions of these ads in order to adapt to these young men's different demographics. The ads are written in Spanish as well as English to reach Los Angeles's large male Hispanic population.
This partnership between The Good Seed and Bright Age should stand as a shining example of what can be accomplished when organizations work together to better their communities.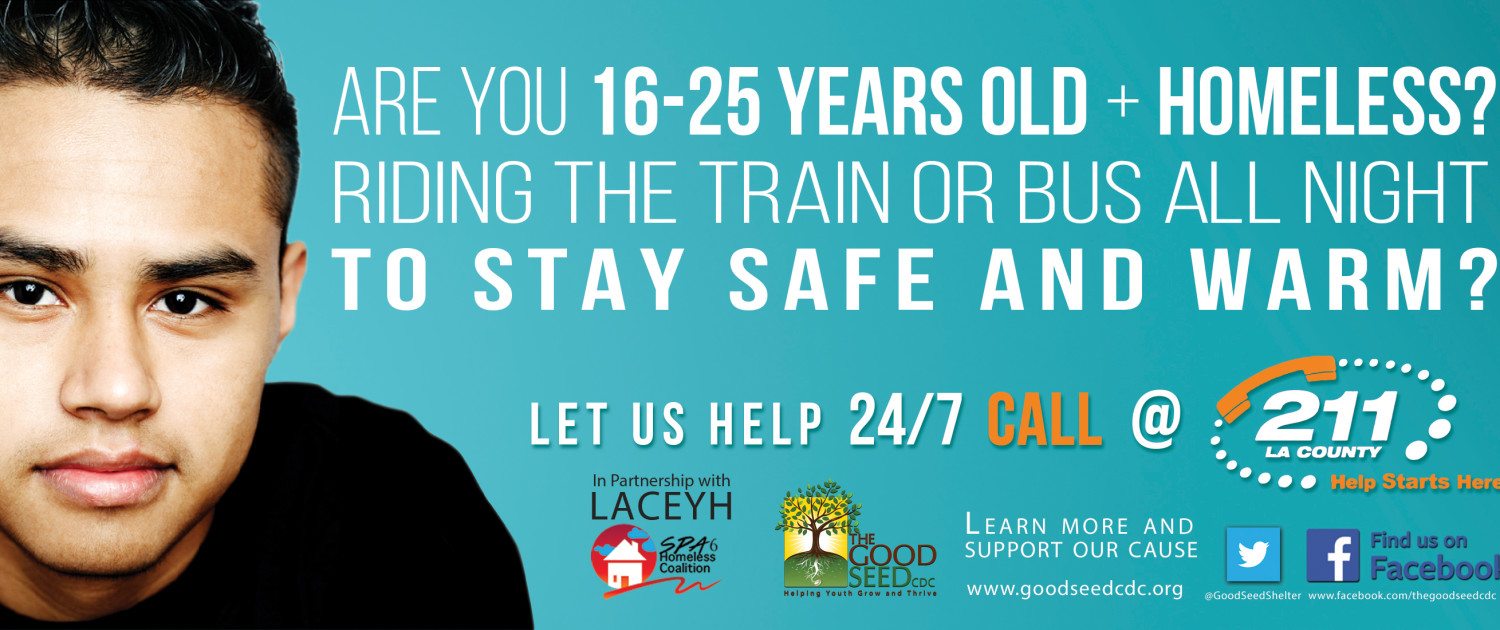 https://brightage.com/wp-content/uploads/2015/03/good-seed-plus-bright-age.jpg
1200
1200
brightsetup
https://brightage.com/wp-content/uploads/2017/10/BRIGHT-AGE-LOGO-header.png
brightsetup
2015-03-24 16:55:57
2016-02-03 00:02:53
Bright Age Agency Partners with The Good Seed To Aid Los Angeles Youth